Sports betting sites have multiple ways of engaging punters by giving them plenty of types of bets when creating their betting slip. If you have ever wondered around a betting site, you might have noticed that one event gives you the opportunity to go about your wager in all sorts of ways.
Some of these types of bets are not that easy to understand, especially if you're a novice gambler who doesn't have a lot of experience when it comes to sports betting. That's why we decided to write this article and give you all the information you need about the most common types of bets found on sports betting websites.
We will go over several betting types and give you a detailed explanation about each of them and share some examples so that you can better understand those types.
By reading our guide, you will increase your chances of making the correct bet and, ultimately, you will have better odds of winning. Read on!
Singles
Single bets are the most popular types of bets and they are very easy to understand. All you need to do is select one event, predict its outcome, and decide how much money you want to invest. This betting type is ideal for beginner punters, but a lot of seasoned bettors love it as well. You'll have much higher chance of winning this type of bet since you only need to predict the outcome of a single event, unlike multiple bets where you need to predict the outcomes of several games.
Single bets are also very easy to calculate. The odds for your single event are multiplied by your stake. Below, you can see some of the most popular singles bets found on sports betting sites and land-based sportsbooks.
Head to head
The majority of punters take head to head bets. They are the simplest type of bets and one of the oldest types offered by sportsbooks. By making a head to head bet, you are merely guessing the final outcome of a fixture. You can bet on a certain team or an individual to win or lose, or on the match to end up in a draw if drawing is applicable for that sport.
Example: let's say you choose the game one of the NBA Finals between the Golden State Warriors and the Toronto Raptors. You bet on the Raptors to win, and only if they do, you will win your bet. Even if the match goes to overtime, you still have a chance of winning the bet, granted the Raptors win the match.
Totals (Over/Under)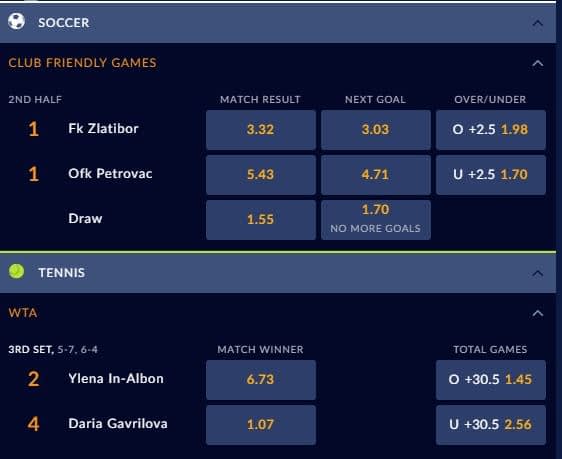 If you're having trouble predicting who is going to win a particular match, you should go for over/under bets. This type of bet allows you to choose how many goals or points will be scored in a game. However, over/under betting can be used for various other stats like the total number of goals, corners, yellow and red cards, and so on.
Example: It's FIFA World Cup final between Croatia and France. The bookies predict that it will be a tight match with good defence on both sides, so they put the over/under line on 1.5. You bet under, so you hope that the match ends with only one or zero goals. Unfortunately, France wins 4:2 and your bet is a losing one.
Over/under bets can be implemented in any number of sports that have similar scoring structures, like baskets for basketball, games and sets for tennis, goals in handball, and so on.
Handicaps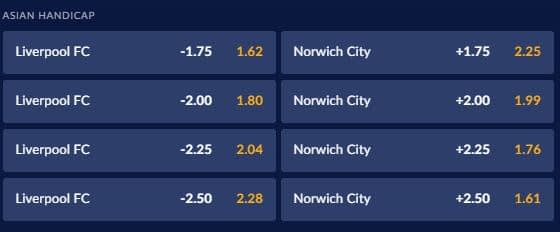 In almost any fixture there will be a favourite and an underdog. Sometimes, the outcome will be predictable, so bookies add so called 'handicap' to one of the teams in order to even things out. These types of bets can include whole numbers or half-numbers.
Example: Brazil is a clear favourite to win against Venezuela at the Copa América. Bookies give Venezuela 1.5 goals in advance. So, if you bet on Brazil to win, they must do so with the margin of two goals or more. If you bet on Venezuela, they don't necessarily need to win, they just need to avoid losing by two goals.
Concerning whole numbers, if the bookmarker has given Venezuela two goals as a handicap and you bet on the draw, you will win the bet in case the final score is 3:1 for Brazil.
Each Way
Each way bets are types of bets that are usually seen at horse racing fixtures. You will basically place two bets, one of them on a particular horse to win the race, and the other on that same horse to end up 'placed' (2nd or 3rd). There will be two separate odds, one for the winning and one for the placed horse.
Example: You placed an each way bet on your favourite stallion. The odds for it winning are 10/1, but the odds are divided by four if it only finishes placed. If you wagered $10 and the horse wins, you get $100. If it finishes 2nd or 3rd, you get $25.
Multiples
Multiple bets give you a chance to put more than one selection on your betting slip. All the bets on your slip are multiplied together. So, if you make three selections with the odds 2/1, 3/1, and 4/1, your total odds will be 24/1. That number is then multiplied by your stake to calculate your potential winnings. Here are some of the most common multiple types of bets that punters enjoy taking.
Double
These are similar to singles bets, only now you have two selections and both of them need to be guessed correctly in order for you to win.
Treble
Trebles involve exactly three bets. The rules are the same, and you need to guess all three bets if you want to cash out. Remember, the odds get multiplied with each selection you add to your betslip.
Full Cover Bets
Unlike accumulator bets that we discussed above, full cover bets (also called system bets) can still turn out profitable even if some fixtures on your betslip don't go your way. These types of bets are a little complicated to understand, but in the simplest way we can put it, system wagers allow you to win in more than one way by placing a stake at each of the possible winning combinations.
Example: You created a 2/4 system, which means that if any two out of four fixtures on your betslip are correct, you will win. Of course, if more than two fixtures turn out to be correct, you still win.
Also make sure to check out our Arbitrage Betting Guide for valuable betting information.